Wrigleys welcomes four new property team members
26 April 2023
We are delighted to have Clair Douglas, Sadia Ali, Jonathan Earnshaw and Alasdair Inglis join the firm.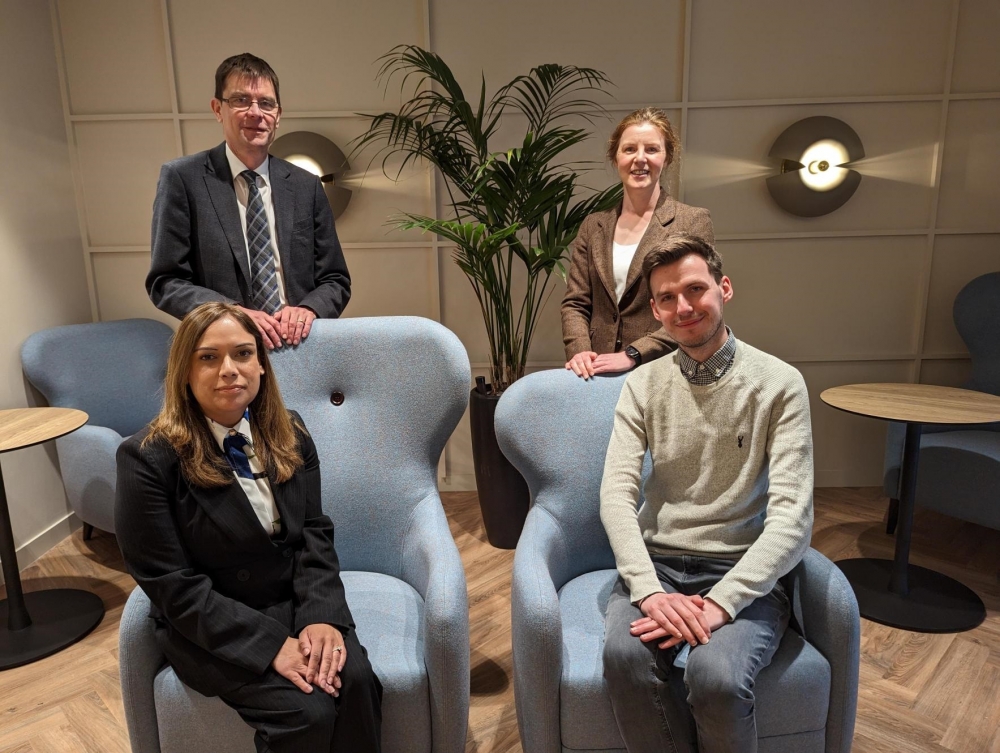 We are thrilled to announce the arrival of four new members to our Property team. The addition of Clair Douglas, Sadia Ali, Jonathan Earnshaw and Alasdair Inglis brings a wealth of knowledge and expertise to the firm's already strong roster.
Clair Douglas has joined Wrigleys as a Rural Property Solicitor, bringing with her extensive experience in advising rural clients on all aspects of property law. She has worked on a variety of cases, ranging from agricultural tenancies and commonhold registrations to livestock sales and development projects. Clair, who is passionate about working with rural clients and supporting them through their legal issues, says "I am delighted to have joined the exceptionally talented solicitors in Wrigleys' highly regarded Rural Team".
Sadia Ali joins the team as a Commercial Property Solicitor, having previously advised clients on complex commercial property transactions including acquisitions, disposals, leases and portfolio management. Sadia's experience will be an invaluable asset to Wrigleys as it continues to provide quality services for its varied client base.
Sadia Ali commented, "I am excited to be joining the team at Wrigleys Solicitors. My goal is to provide quality legal services that are tailored to meet the unique needs of each client."
Jonathan Earnshaw also joins the Commercial Property team at Wrigleys Solicitors. He has recently qualified into the sector, he comments: "I am thrilled to have joined the property team at Wrigleys. The team undertakes a hugely diverse range of work, much of it in niche areas such as railway leases and charity property. This felt like the perfect challenge to kick off my career as a solicitor. I'm excited to get stuck in and look forward to helping the team expand its offering even further moving forward."
Rachel Meredith, Head of Department for the Property team at Wrigleys, says: "Developing our agricultural and rural property team with Clair joining has really added to this in-depth knowledge as she has worked within this market for over 13 years. Meanwhile, our commercial property work has organically grown enormously, and we are delighted to welcome Sadia and Jonathan to support this busy and growing team. Sadia brings over 10 years' experience to our Leeds team, while Jonathan has recently qualified and will be working across both our Leeds and Sheffield offices as he grows his expertise across a range of our specialist areas".
Alasdair Inglis has been appointed Partner in the firm's Property department. "I am delighted to have joined Wrigleys and look forward to contributing to the Property team and the firm at large as it continues to provide quality services to its clients," says Alasdair. He went on to say that he was attracted by "the brand it has built up over many years and the unique way it operates in providing its legal services".
Rachel Meredith adds: "The specialisms within the Wrigleys property team are what make us unique. We are not a one-size-fits-all practice, instead, we understand the nuances of our niche markets and know what makes them tick."
At Wrigleys Solicitors we are proud of our heritage but even prouder that we are continuing this tradition by welcoming these new members into our family who bring fresh perspectives while maintaining our high standards of service delivery.
If you would like to discuss any aspect of this article further, please contact Alasdair Inglis, Clair Douglas, Sadia Ali or Jonathan Earnshaw.

You can also keep up to date by following Wrigleys on Twitter.
The information in this article is necessarily of a general nature. The law stated is correct at the date (stated above) this article was first posted to our website. Specific advice should be sought for specific situations. If you have any queries or need any legal advice please feel free to contact Wrigleys Solicitors.