Partner promotions at Wrigleys Solicitors 2018
19 June 2018
Wrigleys are pleased to announce 4 promotions in the firm's Leeds office.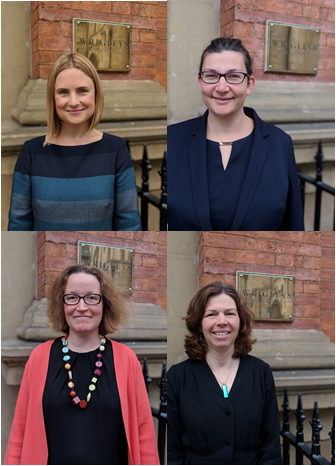 Pictured clockwise from top left: Kate Buckham, Natalie Johnson, Joanne Spavin, Emma Ridge.
Kate Buckham
Kate is a pensions law specialist who has been with the firm for just over a year. Kate advises trustees and employers on all matters of pensions law with a particular interest in governance and compliance, and is a member of the Association of Pension Lawyers. She is also a governor of the Northern School of Contemporary Dance.
Natalie Johnson
Natalie has been at Wrigleys for 10 years since joining the firm as a trainee. She is an integral part of the charity law team and has a particular specialism in faith-based charities. She is a member of the Charity Law Association, the Society of Trusts and Estate Practitioners, and the Ecclesiastical Law Society.
Emma Ridge
Emma is one of two solicitors promoted to partnership level within the agriculture and rural property team. Her background of property has developed to specialise in rural properties, landed estates and community-led housing. Emma is a member of the Agricultural Law Society.
Joanne Spavin
Joanne is the second solicitor in the agricultural and rural property team to be promoted to partnership level. She deals in a broad range of commercial and agricultural property work; her experience includes landlord and tenant matters, acquisitions and disposals of farms and all forms of rural diversification including development schemes,development, telecommunications leases and wayleaves.
Paul Nash, Managing Partner comments: "The promotions of Kate, Natalie, Emma and Joanne recognise their excellent reputations in each of their specialist fields. The firm's decision to promote these able solicitors shows it's commitment to equality and recognition of ability rather than time spent at the firm. In particular, the agricultural team has developed to supply growing demand for its expertise and to ensure long term continuity for clients, as can be seen in these partner promotions and the recent recruitment of Aurea Kevill and Richard Whittaker."