Partner Promotions 2020
10 December 2020
Wrigleys are pleased to announce 4 promotions across the firm's 3 offices: Sheffield, Leeds and Newcastle.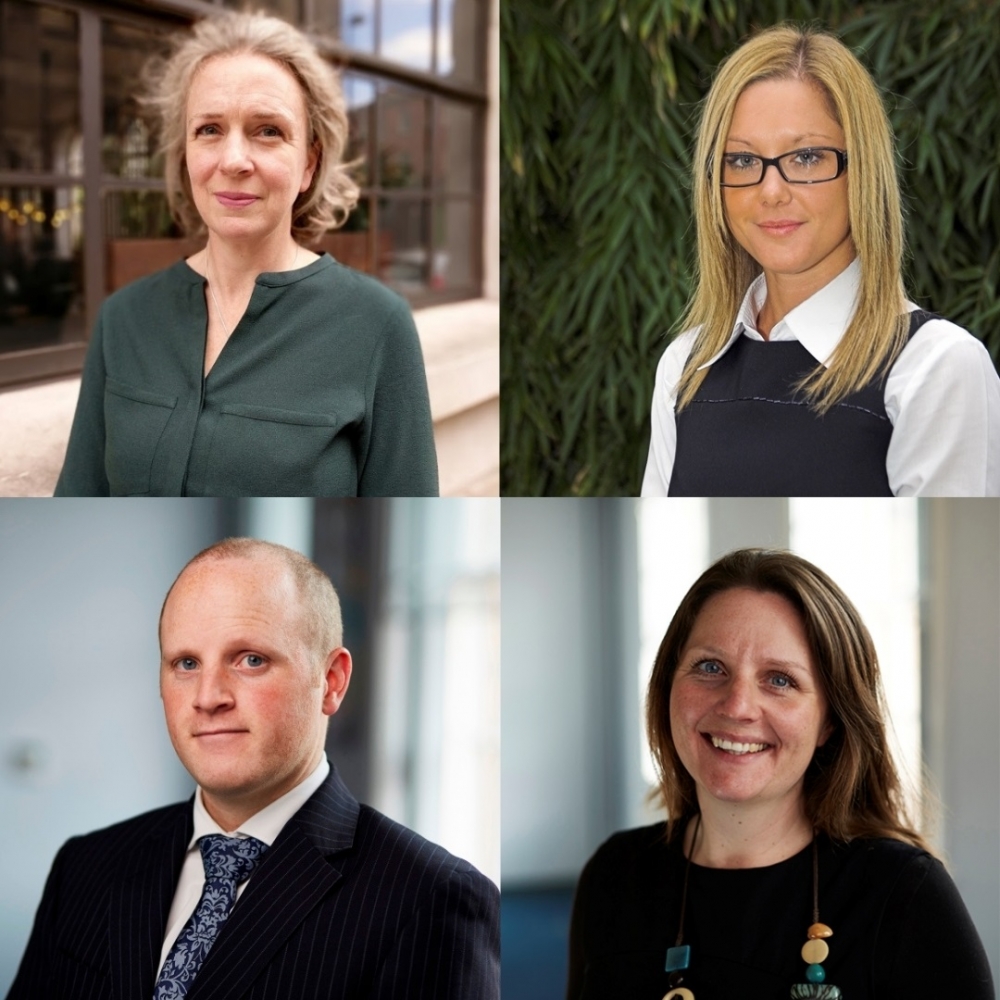 Clockwise from top left: Fiona Wharton, Charlotte Dyson, Laura Moss and Kieran McIvor.
Marie-Louise Hamilton, Managing Partner highlights the range of expertise of the new partners in their respective specialisms which demonstrates the significant technical ability of our solicitors: 'Such a level of expertise in these niche areas in one firm is rare.
It is an exciting time for the firm as we continue to develop our Newcastle office and Fiona's appointment reinforces the firm's long-term commitment to building on the strong relationships we already have in the north east. Fiona's reputation in the region helps the firm gain a greater foothold with both established contacts and those new to the firm.
We are looking forward to Laura returning from maternity leave next year so that she can continue to develop her work in the growing Charities and Social Economy team in Leeds. Her personal immersion in the Community-Led Housing market has helped build relationships and show a deep understanding of clients' specific needs.
I am proud that Charlotte is another of the firm's trainees who has progressed her career at the firm, developing her expertise in the very busy Court of Protection and Personal Injury Team in Sheffield. Charlotte's ability to combine empathetic client work, technical knowledge, and a keen sense of business development brings a real benefit to the partnership.
Kieran is a clear example of the firm being able to attract solicitors with strong technical ability who are then encouraged to build on that expertise by pursuing and developing areas of law that interest them. Kieran's external profile precedes him in the niche sectors he focuses on and his cross-border expertise brings another level of specialty to the department.
Long-term relationships with our clients allow us to listen to them and understand their needs. I very much look forward to working with the new partners as they continue to develop their areas of expertise and support the firm with its strategic plan, delivering excellent, specialist advice to new and existing clients.'
Fiona joined Wrigleys from a large corporate firm based in Newcastle upon Tyne where she was a partner and head of the Charities team, and she now heads up the Charities and Social Economy practice in Wrigleys' Newcastle office. Fiona advises charities and social enterprises on all aspects of charity and company law and governance, commercial arrangements, mergers and collaborative working, trading, and fundraising. She is recognised as an expert in charity law by legal directories Chambers & Partners and Legal 500. Fiona also advises our Community-Led Housing clients.
'I am delighted to re-join Wrigleys, having worked for the firm some years ago in its Leeds office, at this exciting time as we look to develop and grow our new office based in Newcastle. It has been a successful first year and I look forward to building on that for the future.'
Fiona is a trustee of national charity Changing Lives, which works with many of the most vulnerable people in our society, and VONNE (Voluntary Organisations Network North East) which is the regional support body for the North East voluntary, community and social enterprise sector.
Charlotte works in our Court of Protection and Personal Injury Trust team. She is a Director of our trust corporation, Wrigleys Trustees Limited and acts as Deputy, professional Trustee and attorney.
Charlotte has spent her whole legal career at Wrigleys after training here and qualifying in 2010. She specialises in cases involving the Court of Protection, personal injury trusts and asset protection for the young, elderly, and vulnerable. Charlotte was recognised in 2016 on the list of Top 35 Under 35 private client professionals.
'I feel that the fact that I have remained at Wrigleys throughout my legal career (and even before!) is a testament to the investment the firm places in its teams, and the development of our colleagues. I am delighted to now be afforded the opportunity to participate in the firm's future as one of the Partners.'
Charlotte is a member of both Solicitors for the Elderly and UK Acquired Brain Injury Forum. She is a Scope and Mencap recommended advisor as well as a Dementia Champion.
Kieran qualified as a solicitor in 2010 and joined Wrigleys' Private Client department, from a leading firm in Harrogate, in 2015.
Kieran is a member of the Landed Estates and Probate teams within the department. His expertise includes advising farmers and landowners on all Private Client matters, the preparation of complex Wills involving overseas assets, advising on high-value Inheritance Tax and Capital Gains Tax planning, advising on tax residency and domicile and dealing with the administration of complex high-value UK and cross-border probate matters.
Kieran was named as a 'key lawyer' in the 2020 Legal 500 Directory. He has been a STEP-qualified 'TEP' since 2015, has served as committee member and media representative for STEP Yorkshire since 2018 and has supervised trainee solicitors in the Private Client department for a number of years.
'Wrigleys' reputation within the profession is as an outstanding 'tier 1' firm, offering expertise at the cutting edge of Private Client practice. Aside from the work that the firm delivers, what really sets Wrigleys apart is the close-knit relationships we build and foster with our clients and their families, as their 'trusted advisors', and the way colleagues work together to help our clients achieve the best outcomes possible.'
Laura qualified as a solicitor in 2011, starting her career with an international City firm. She joined the Wrigleys Charities and Social Economy team in 2015 after a short break to cycle round the world. She advises on a wide range of third sector matters working with charities, social enterprises and community groups, with a particular interest in Community-Led Housing.
'Working at Wrigleys feels like a real privilege. I act for some truly inspirational clients and the kind of work I do is as challenging and interesting as anything you see in a bigger firm. The collegiate environment and fantastic colleagues also make it a lovely place to work, with a positive, supportive culture where people are actively encouraged to pursue their own areas of interest. I count myself lucky to have found a firm of this calibre outside London, as I get to live within easy reach of amazing countryside where I can do the outdoor activities I enjoy so much. I am excited and honoured to join the partnership and look forward to helping to govern the future direction of the firm.'
Outside work, Laura organises the Cycle Touring Festival and is developing her own cohousing project near Kendal.