Wrigleys' recruitment drive during 2020
11 January 2021
Wrigleys are delighted to have welcomed new solicitors and tax professionals into three different teams across the firm during 2020.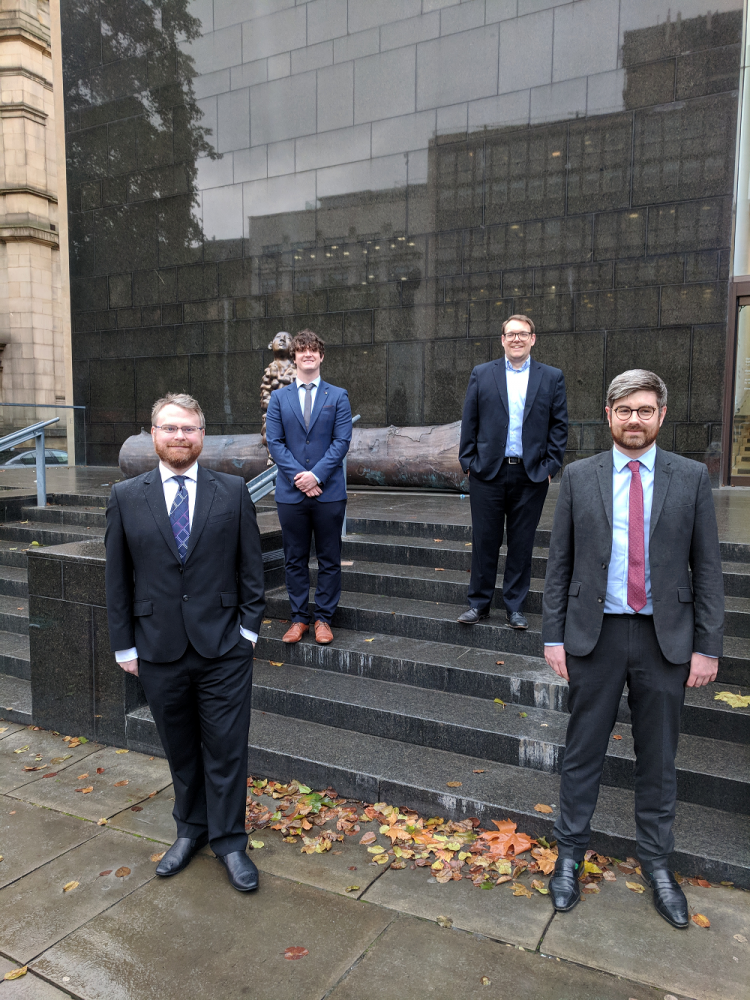 Photograph of L to R Mike Ford, Daniel Malley, Wills Crump and Andrew Flaherty
Wrigleys are delighted to have welcomed new solicitors and tax professionals into three different teams across the firm during 2020.
Despite the uncertain times Wrigleys' growth has continued, and the firm is feeling positive about the future.
Managing Partner, Marie-Louise Hamilton says, 'Notwithstanding the challenges of 2020, the firm has continued to grow and develop teams to ensure that we are able to deliver the excellent levels of service that clients expect. Recruiting across the diverse range of specialisms within the firm is testament to the hard work and expertise of each of those teams which in turn attracts new work and new clients.'
Daniel Malley joined the Trust Management team as a Trust Tax Associate to assist the busy team with trust and personal tax compliance matters, including the preparation of trust accounts, trust tax returns and also personal tax returns.
Daniel says: 'I initially joined Wrigleys because of the great reputation the firm has for, not only the high-quality work done here, but for being a truly enjoyable and welcoming place to work - so far I have not been disappointed! I have been here a little while now and have been delighted by the great working environment and the interesting variety of work I have been involved in!'
Daniel joined Wrigleys from Grant Thornton and is ATT qualified (Associate of Taxation Technicians).
Trust Manager Andrew Flaherty was also recruited into the Trust Management Team. He specialises in trust compliance for trusts, estates and individuals, and is experienced in advising on inheritance tax and capital gains tax, as well as supporting trustees.
Andrew returns to Wrigleys after a number of years working for a private family Trust office in London, 'I am pleased to be back at Wrigleys and to see some familiar faces again. The firm's core values, inclusivity and good client base attracted me to a return up to Yorkshire again.'
Wills Crump joined the Wrigleys Pensions team as a Solicitor from the Leeds Pensions team of Eversheds Sutherland. He specialises in both private and public sector pension schemes including the LGPS, TPS and Fire schemes.
'I'm delighted to join Wrigleys. I'm pleased with the contribution I've made to the Pensions team over the last 10 months of lockdowns and I'm looking forward to helping our existing clients and building our private and public sector pensions offering.'
Wills is an active committee member of the North East Association of Pension Lawyers (NEAPL) and a member of the Association of Pension Lawyers (APL).
The latest recruit for 2020 joined the Charities and Social Economy team. Solicitor, Mike Ford advises on structural transactions such as mergers, reorganisations and joint ventures, operational and commercial matters including agreements for services, subcontracting and funding arrangements with third parties, and raising social finance, including in relation to share and bond issues.
'I moved to Wrigleys from a large, global business law firm to join the Charities and Social Economy team because I wanted a more varied role and to work for clients who are genuinely trying to make the world a better place.'
Most recently, Mike completed an employee ownership matter advising family-owned business Wheatlands Aire Valley Engineering, and its owners James and Joanne Bailey, on a transition to employee ownership by way of an employee ownership trust with WAVE EOT Limited as corporate trustee.