Probate fees set for significant rises
27 February 2017
The Ministry of Justice has confirmed its plans to substantially increase probate fees from £155 to a maximum of £20,000.
Notwithstanding a period of consultation that resulted in significant opposition to the proposals, the Ministry of Justice has confirmed it will go ahead with an overhaul of probate charges.
The changes are expected from May 2017, subject to parliamentary approval.
The current system:
Current probate fees are a flat fee of £155 for those applying through a solicitor.
The proposed fees:
There will be a sliding scale with the significant rises applying to estates worth more than £300,000.
Positive news is that more estates will pay nothing at all following the increase to the minimum level below which estates will be exempt (this level will increase from £5,000 to £50,000). The MOJ state this means 58% of all estates in England and Wales will be exempt from any fee at all.
The full sliding scale is as follows: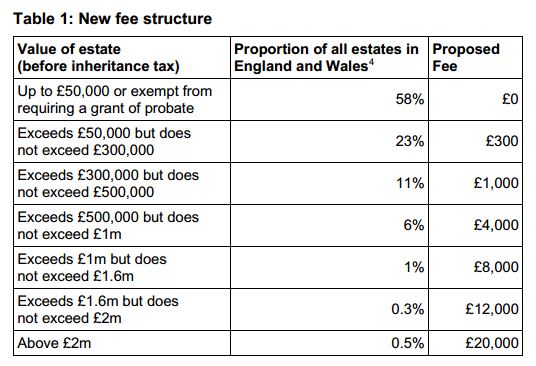 Source: Ministry of Justice: full report here
Philip Nelson, partner at Wrigleys comments "This will undoubtedly have a disproportionate impact on some estates. The increases in fees are sufficiently high for the fees to play a part in estate planning decisions and could result in more clients considering making lifetime gifts and joint ownership of assets in order to plan for these increased costs."
Further reading: Joint Bank Accounts – Death Taxes & Mental Capacity
If you or your clients would like to discuss this article please contact the Private Client team on 0113 244 6100.

You can also keep up to date by following Wrigleys Private Client team on Twitter here.

The information in this article is necessarily of a general nature. Specific advice should be sought for specific situations. If you have any queries or need any legal advice please feel free to contact Wrigleys Solicitors.