Happy 10th Birthday National Community Land Trust Network
19 October 2020
At Wrigleys Solicitors, we have been at the forefront of the community-led housing movement for over thirty years.
We believe that the role that community land trusts can play in helping to solve the country's housing crisis has never been more important. As we celebrate the tenth anniversary of the National Community Land Trust Network, the official charity supporting Community Land Trusts in England and Wales, we look back at some of the highlights associated with our community-led housing work, and the trends we have seen, over the past ten years:
The Groups – from the Isle of Wight in the South to Perthshire in Scotland (via Brighton, London, Oxford, Manchester, Leeds, York and many more…), we are privileged to have worked with over 100 groups and have had the pleasure of talking to many more. As an example of our work, you can read about our involvement with the London CLT– St Clements development here. In terms of trends, we have seen huge growth in our client base over the past three years (no doubt in part due to the Community Housing Fund) and an increasing urbanisation of the community land trust. We have worked with over 50 CLTs in the last couple of years alone.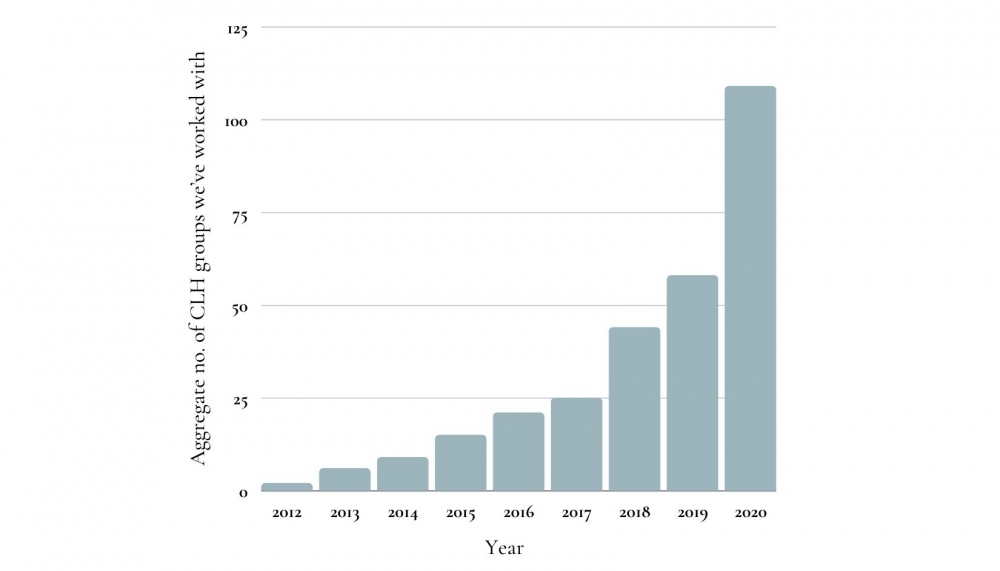 If I was to choose three words which sum up everyone we have come into contact with though our work with CLTs, it would be tenacious, passionate and imaginative. The one consistent attribute that sets them apart from other developers is a resolute desire to build communities, not just homes.
Developing the Law – we have lobbied the Law Commission and the government about including a statutory exemption for community-led housing groups from the rules on enfranchisement and a ban on new leasehold structures. The proposed new rules are designed to give individuals more control over their properties but could undermine the whole ethos of CLH groups. Our work involved constructing a proposed statutory definition of "community-led housing". Our guidance note was circulated to government departments.
Changing the Law – we, along with others, have been telling the Treasury how unfair the stamp duty land tax regime is on community-led housing groups. Co-ops UK have also lobbied hard for exemptions for co-operative societies and achieved some tangible very welcome results. If we get a statutory definition of "community-led housing" this will strengthen the case for extending the reliefs granted to co-ops to more of the CLH world.
Closer to Home – some of the team have started their own community housing projects, meaning they have first-hand experience of the practical issues that may arise. As an example, you can read more about how our partner, Laura Moss, is setting up her own community for her, and her family's, future home in South Cumbria.
Innovation – we strive to be innovative in the solutions we find for our clients. As an example, we have worked with a community land trust in York which is aiming to simplify the Mutual Home Ownership Society model, to increase its replicability. MHOS is an innovative structure where residents pay a monthly charge for the right to live in a property, in return for which they build up an equity pot, which they take with them when they leave. It is a novel solution to the housing crisis, providing an intermediate step between rental and owner occupation. It deliberately makes it couple to de-couple the costs of housing from the vagaries of the housing market.
Charitable Status – calling upon our charity law expertise, we assisted the NCLTN in gaining charitable status in May 2014.
Partnership Working – through our partnership agreement with the NCLTN we have been able to work together to promote the development of the movement, through shared ideas, know-how and learning.
Our Team – our team has grown exponentially over the past ten years, from a team of 2, to a dedicated team of some 17 lawyers providing governance, property, finance and commercial advice (and occasionally emotional support!) to community-led housing groups. And we're still growing.
Governance – we developed, and had approved by the Financial Conduct Authority, a set of model rules for a community benefit society, the legal structure adopted by many CLTs. Community Land Trusts which want to seek charitable status are now able to use the Charity Law Association model rules which we successfully registered with the FCA. We are able to act as sponsor to any organisation which wishes to use these rules to register a charitable community benefit society.
Events – from churches to pubs and from community centres to Zoom, we have hosted dozens of groups at various of our events. Highlights have been our community-led housing webinar series over the summer of 2020 and our inaugural lockdown social event for CLH groups in May. Watch this space - we're planning to break the (unofficial) world record for the number of CLH groups singing together, at a festive zoom event in December.
Happy 10th birthday to our friends and colleagues at NCLTN! Here's to the next ten years and the continuation of its immensely important work.
If you would like to discuss any aspect of this article further, please contact Peter Parker or any other member of the Community Led Housing team on 0113 244 6100.

You can also keep up to date by following Wrigleys charities team on Twitter here

The information in this article is necessarily of a general nature. Specific advice should be sought for specific situations. If you have any queries or need any legal advice please feel free to contact Wrigleys Solicitors