Wrigleys Solicitors Celebrates Partner Promotions
08 June 2023
Wrigleys Solicitors is proud to announce the promotion of two of its leading solicitors, Alacoque Marvin and Chelsea Martin.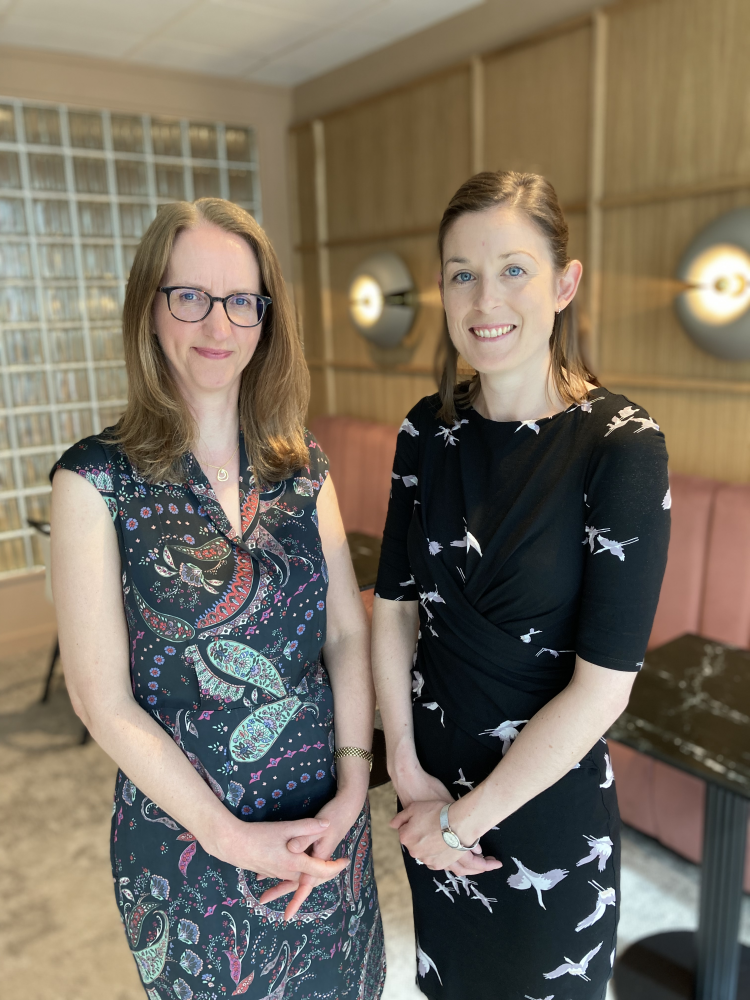 Photo: Alacoque Marvin and Chelsea Martin
Wrigleys Solicitors is proud to announce the promotion of two of its leading solicitors, Alacoque Marvin and Chelsea Martin.
The promotions are a testament to the firm's commitment to delivering excellent client service and developing its teams. Managing partner Marie-Louise Hamilton says 'At Wrigleys, we take great pride in developing our colleagues' skills and interests, helping them reach their full potential. By focusing on recruiting individuals with potential as well as qualifications and experience, we are able to build a diverse workforce that is equipped with the skills needed for the firm's continuing long-term success. Our culture encourages innovation, creativity and collaboration, enabling colleagues to make meaningful contributions to their roles and the organisation. I am absolutely delighted by recent promotion of Alacoque and Chelsea.'
Alacoque Marvin
Alacoque Marvin has been promoted to partner after 10 years at Wrigleys, following the completion of her training contract with the firm. Alacoque qualified as a solicitor in 2015 and is an employment and education lawyer working within the charities and social economy team at Wrigleys. She retrained as a solicitor after a first career as a teacher and faculty leader in an outstanding secondary school and has considerable experience of the realities of managing colleagues and resources within the education and public sectors.
Alacoque's work involves advising education sector, third sector and social economy clients on all aspects of employment law, including complex employee relations issues, TUPE, restructures and redundancy, and the defence of claims in the Employment Tribunal, including discrimination, whistle-blowing and trade union related claims. Alacoque also advises schools and academy trusts on a range of issues including parental complaints, information sharing, admissions and exclusions, and the defence of disability discrimination claims in the Special Educational Needs Discrimination tribunal.
Alacoque is a member of the Employment Law Association, the editor of the Wrigleys' monthly Employment Law Bulletin and has written for Employment Solicitor Magazine and third sector publications. Alacoque is a confident and eloquent speaker, regularly presenting on employment law topics at Wrigleys' Employment Law Update conference and brunch briefings.
'I am delighted to be recognised for my hard work over the past decade and look forward to the exciting challenges ahead,' says Alacoque. 'I'm very grateful to Wrigleys for the opportunities offered to me in my second career and delighted to be able to contribute further to such a values-driven and people-centred firm.'
Marie-Louise Hamilton says: 'Wrigleys Solicitors is a dedicated firm providing specialist legal advice to the education sector, third sector and social economy clients. We take great pride in helping our clients navigate the ever-changing landscape of employment law within this specialist sector, Alacoque's promotion recognises her expertise and high regard in which the firm and clients hold her.'
Chelsea Martin
Chelsea Martin, trained at a London firm and qualified in 2014. Since then, she has specialised in the private client sector before joining Wrigleys in 2019 with a particular interest in advising business owners and entrepreneurs on succession planning.
Chelsea's specialism is lifetime tax planning for her clients, including the preparation of complex Wills and trust documents, advising clients on their existing structures and how they might be re-organised to improve tax-efficiency or to achieve the client's objectives. Chelsea has experience in dealing with the administration of estates where there are assets situated overseas or where the deceased was domiciled or resident abroad and had assets in the UK.
She is often instructed by different generations of the same family and enjoys getting to know her clients and becoming their trusted advisor, all while supervising trainee solicitors and junior colleagues in the department.
Chelsea says: 'Since joining Wrigleys, I have been given the opportunity to develop my expertise in advising family business owners and entrepreneurs, and I am regularly engaged in complex, high value and technically challenging work. It is a privilege to work in such a close-knit and collaborative team, where we are encouraged to build close relationships with our clients, their families and other professionals.'
Chelsea adds: 'The private client team at Wrigleys has an outstanding reputation, and I am incredibly excited to join the partnership and play a role in the future direction of the firm.'
Chelsea achieved a distinction in her STEP diploma in 2017 to become a STEP qualified Private Client Solicitor and is a Trustee of Older Citizens Advocacy York.
Marie-Louise Hamilton says: 'Advising family businesses and entrepreneurs on succession planning and asset protection is a key area of work for the firm. Appointing Chelsea Martin to partnership level, reinforces the firm's strategy to build on the already well-established family business team's highly-regarded reputation. Chelsea's promotion comes at a time where we are seeing increasing client demands, greater volume of complex work, and new clients for this growing team.'
If you would like to discuss any aspect of this article further, please contact Chelsea Martin, Alacoque Marvin or any other member of the Wrigleys team on 0113 244 6100.
You can also keep up to date by following the Employment Team on Twitter.
You can also keep up to date by following the Family Business Team on Twitter.
The information in this article is necessarily of a general nature. The law stated is correct at the date (stated above) this article was first posted to our website. Specific advice should be sought for specific situations. If you have any queries or need any legal advice please feel free to contact Wrigleys Solicitors.