Wrigleys' prominent private client department grows with two solicitors who have a wealth of experience in the private client sector
24 May 2018
Our newest Private Client Solicitors, Aurea Kevill and Richard Whittaker, talk Wrigleys, relocation from London and Yorkshire Wolds Way
So, what brings you to Wrigleys?
Richard Whittaker (RW) : As Wrigleys is one of the leading Private Client firms in Yorkshire, I saw the opportunity to build on my experience in a firm known for its collegiate approach. Since getting here, I have been involved in some excellent high quality and challenging work, in areas of private client work that I would otherwise not have had access to.
Aurea Kevill (A.K): I have been working in London for the past two and a half years and I also did my law conversion down in London. I wanted to move back up to Yorkshire as my family are based here. Wrigleys seemed like the perfect fit for me.
Where did we find you?
R.W: I have specialised in private client matters since qualification and previously worked in Rollits', private client department for the last 11 years.
A.K: I, too, have always specialised in advising private clients, doing my training contract and working since qualifying at the boutique private client firm, Maurice Turnor Gardner in London (which used to be Allen and Overy's private client department). Wishing to carry on doing top quality work, Wrigleys was the obvious choice.
How have you found your transition to Wrigleys' way of life?
R.W: Everybody has been very welcoming. You hear that about this firm but I am delighted how true it is!
Commuting on the train (40 mins) is new for me and it poses different challenges than queuing in traffic; particularly during my first week and the adverse weather - the 'beast from the east', what a way to start!
A.K: It has been very easy settling in. Everyone is so friendly and welcoming. I still haven't mastered the rabbit warren of staircases yet though!
What is your favourite aspect of your job?
R.W: The client meetings are where the job really comes into its own – the feeling that you have been able to help or reassure the clients is very rewarding.
A.K: I enjoy how private client work is so varied and the type of client is also very varied – no day is ever the same.
What are your areas of specialisms within Private Client?
R.W: I am able to work across all areas of private client work, although there is currently a strong bias towards estate administration matters.
A.K: I do a broad range of work across the Private Client sector but most of my work comes from our highly respected and very busy Landed Estates team. Within this I am aiming to develop my interest in art law and heritage property.
Outside of work, how do you wind down after a long week of Private Client legal work?
R.W: I have recently retired from playing amateur rugby union; although I am considering yet another comeback next season!
I spend most of my spare time with my family, with a few camping trips planned with my wife and two children over the summer.
Keeping with the theme of being outdoors, I am also completing the Yorkshire Wolds Way with couple of friends – the route based around pub to pub, of course!
A.K: As I have recently moved out of London, and now live in the middle of nowhere, I am enjoying being in the countryside at weekends. Ampleforth is such a beautiful part of the world, I am getting used to the different pace of life to city living.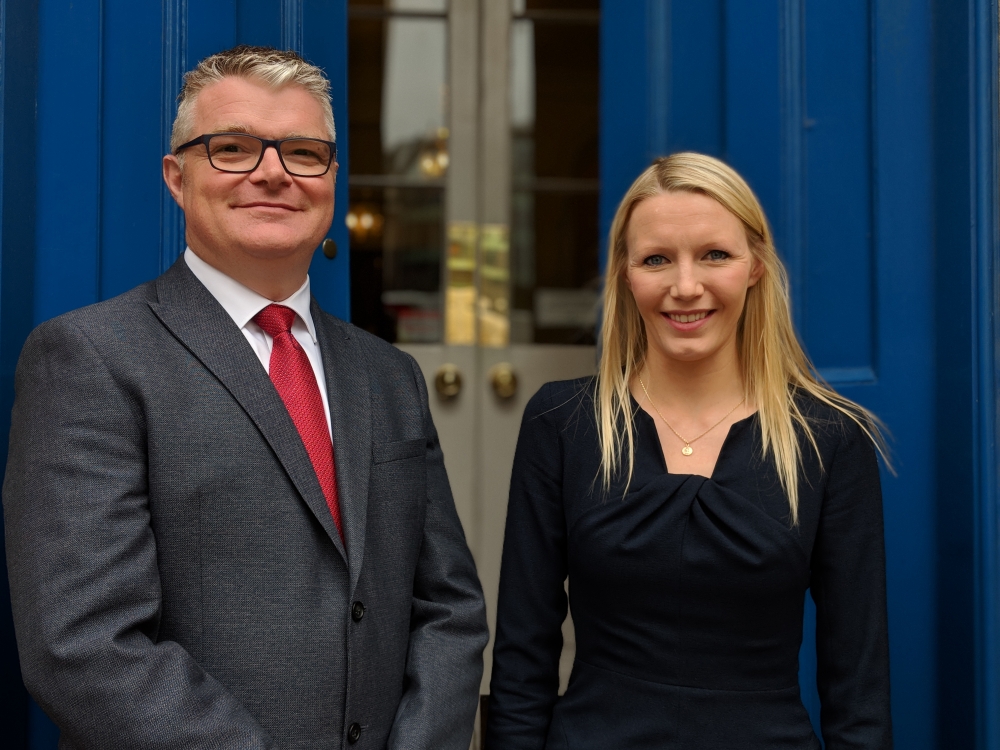 From left to right: Richard Whittaker and Aurea Kevill