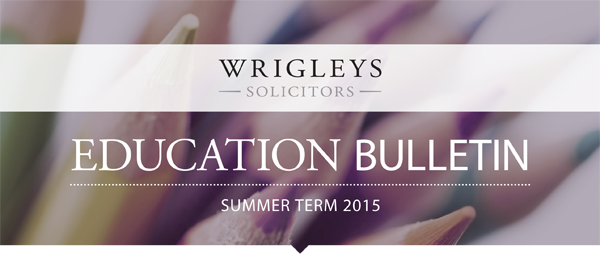 Changes to education inspections from September 2015

The new Ofsted Common Inspection Framework comes into effect in September. We summarise the key changes.

Coasting Schools

We now have some further detail on what a 'coasting' school may look like.
The Education and Adoption Bill 2015 - what does this mean for schools and academy trusts?

A summary of the key elements from the first key bill from the new government.

21 questions for Multi Academy Trusts

A helpful list for those involved in academy governance to self challenge their role. Particularly useful as part of your annual review of governance.
Updated EFA guidance for insurance premium top up funding and claims for NNDR:

Information on how academies can claim top up funding to meet the cost of their insurance premium and claim funding for NNDR.

Academy Trusts and compliance with the Freedom of Information Act 2000 (FOIA)

A FAQ guide to how the Freedom of Information Act 2000 applies to academies.
Have you been lucky enough to receive Condition Improvement Funding or other funding for building works?

Here are a few things you need to think about when doing any building work projects:

Free fraud resilience tool available for charities

The Charity Commission is encouraging all charities to make use of a free tool aimed at helping them assess their resilience against fraud.
Are you caught by the new duty to prevent people from being drawn into terrorism?

An overview of the steps the Secretary of State expects relevant institutions (including Academy Trusts) to take to prevent people being drawn into terrorism.

Good Governance

A reminder of some of the key requirements and available resources.